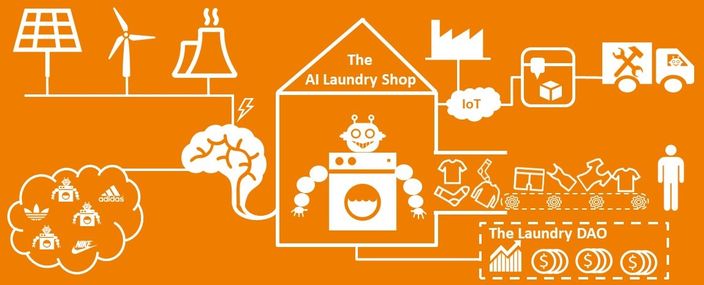 Washing clothes is a complex process
When washing clothes, countless questions have to be answered. From the right detergent to the correct washing program over to the right load of laundry in terms of quantity and composition. The Laundering symbols on the labels should help you. But what does the double underlined tub (
) mean again? Wouldn't it be nice to have a smart washing machine that can do all this for us?
First Step: Automate

Let's start with the labels. In the future, textiles will have machine-readable labels so the smart washing machine will be able to read them. In addition, the smart washing machine will use a camera or optical sensor to determine how dirty the laundry is. Robotics will give the washing machine "arms" for independent loading and unloading or reloading into the dryer. And in the end, of course, the laundry is folded.
Second Step: Intelligence and Networking
Automating the washing process will be a good first step, but certainly not a disruption. The networking of the smart washing machine will provide much more possibilities. Why, for example, should the washing machine rely only on the labels on the laundry? For an optimized result, the smart washing machine will also be able to communicate with other smart washing machines around the world. The manufacturers of the clothes could supplement this knowledge. For example, through washing recommendations for certain washing machine models. Based on this data, the smart washing machine would know, for example, that a certain modern sports shirt would be strongly discolored during the first wash. The washing machine would also know the best way to wash this shirt. For example, with a special program for modern microfibres that is available with this specific washing machine model.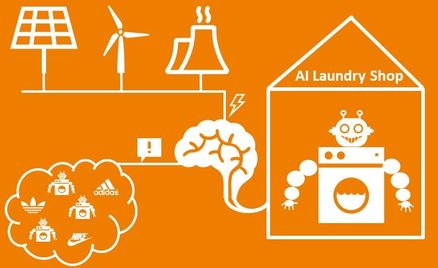 The smart washing machine will make even more decisions. For example, how the electricity for the next wash cycle should ideally be purchased. Does the neighbor's solar system still have available capacities that can be consumed cheaply? Is the regional wind turbine the best source of supply or is it a classic energy provider?
If a malfunction occurs or abnormal sensor data is detected, the smart washing machine will independently order a technician. The technician prints the required spare parts with a mobile 3D printer, carries out the repair and documents this process.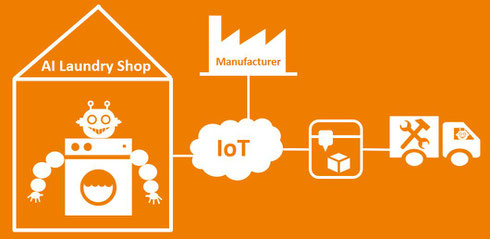 Sharing Economy as the key to financing
Wouldn't such a smart washing machine be quite expensive? Probably yes. But if such a smart washing machine achieves the best washing result completely autonomously, wouldn't it would make sense to use this machine as efficiently as possible? Different households could, for example, join forces and operate such a machine together. For the last mile of laundry transport, there will certainly also be a practical solution.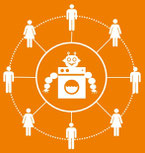 If free washing capacities are still available despite joint use, these could be offered to others for a fee. In the end, this solution will be cheaper than operating one conventional washing machine per household. Alternatively, smart washing machines could be offered by manufacturers or other service providers. Customers would then only pay for the use of the machine. Comparable with today's laundries, but much cheaper thanks to automation.
Where does Blockchain come in?
But what does that have to do with Blockchain now? Let's have a closer look at this ecosystem of smart washing machines. There is a multitude of transactions that have to be executed according to defined rules between different parties. These transactions have a financial impact and should, therefore, be carried out in a verifiable and tamper-proof manner. Just to name a few:
Electricity supply from various sources, in compliance with predefined rules (e.g. green electricity vs. conventional electricity) 

The contracting of service technicians and the documentation of the maintenance 

Protection of intellectual property when printing the spare parts  

Documentation of ownership (laundry items, shares of the machine)  

Tamper-proof documentation of the individual usage 

Procurement of detergents  

Distribution of costs or profits among owners 

Control over the use of self-produced data in the ecosystem  

Compensation for the data used by the smart washing machine
How can we execute these transactions in a traceable, verifiable and tamper-proof manner? From today's perspective, there are two possible answers to this question.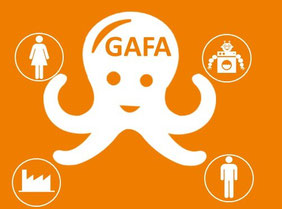 On the one hand, large multinational corporations such as Amazon or other intermediaries could do this for us. The information provided by the dirty laundry of individuals or representative groups certainly contains many interesting findings.  The advertising industry would be very interested in this valuable data. In return for this data, the services would probably be cheap or even free of charge. However, the consumer then has very little influence on how these machines are operated and what happens to his data.
Alternatively, we could use blockchain technology to operate these locally decentralized ecosystems. Some of the above issues have already been solved, at least in prototypes. For example, electricity trading between neighbors in so-called microgrids. Blockchain technology is excellently suited for recording transactions transparently and tamper-proof and ensuring compliance with jointly defined rules. For example, several parties could operate a smart washing machine as a decentralized autonomous organization (DAO). Rules would be fixed in a so-called smart contract. The definition of the rules is then in the hands of the owners. They could decide to operate a smart washing machine with 100% green electricity and prefer local companies for maintenance activities. Whereas another operator of a smart washing machine may be trying to optimize any costs. As a consumer, I could be a shareholder of a machine with a manageable investment or at least choose between different "laundries". This would prevent that a few large corporations control how we wash our laundry.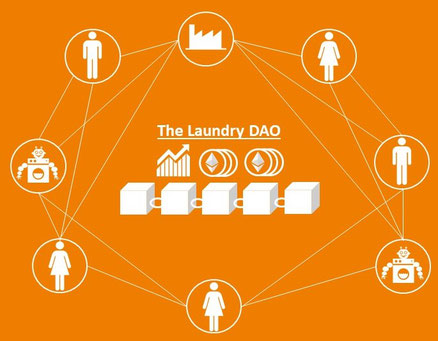 A fundamental change in today's business models
Regardless of how the implementation of the smart washing machine will happen, the fundamental trend is inevitable. Many consumer goods such as cars, household appliances or power tools are used very inefficiently today. In the future, we will no longer buy such things exclusively for our own needs. Instead, we will share them with others without any noticeable loss of comfort. This is a major challenge for industries that have so far focused solely on the sale of products. Companies must establish alternative business models and cooperate more closely with other companies. In these collaborative scenarios, blockchain technologies will help to work on a common data basis. Which means that there is a consensus between the companies on shared data.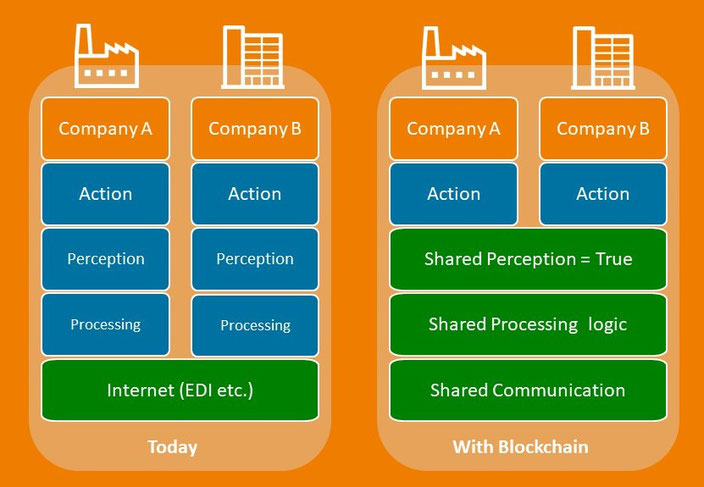 Efficient cross-company processes with a jointly defined set of rules can then be built on this single source of truth. Such a process could, for example, ensure that the manufacturer, as the author of a 3D printing spare part, receives an appropriate compensation from the maintenance company and that the spare part is only printed as often as it has been paid for. These efficient cross-company processes will be an important building block for viable companies in the future.